Spray Foam Insulation in Connecticut, Westchester County, NY and Rhode Island
Spray Foam Insulation in Connecticut, Westchester County, NY and Rhode Island
Spray Foam Shrinkage Solution in Westchester, NY & RI
Every gap, leak, and crack in a house allows air to flow in and out. Air leaks through walls, ceilings, and floors around one-third of the time. A sophisticated insulation system must be installed to ensure optimal building performance. Spray Foam is a cutting-edge insulating material. But spray foam shrinkage is a nightmare for every homeowner.
When spray foam shrinks, there are could be many reasons. Improper installation of the spray foam insulation or the colder weather may cause shrinkage. Regardless of the source, call Superior Spray Foam Insulation if you have spray foam shrinking in your home. We'll check the spray foam for free and provide recommendations. Also, Superior Spray Foam Insulation uses Foam-LOK™ brand Spray Foam System by Lapolla, which doesn't have shrinkage issues like other non-branded spray foams. We are your local trusted insulation expert in Westchester, NY, MA, Rode Island, Connecticut, and other neighboring communities. For a spray foam consultation, call us at 203-442-9171 or contact us online!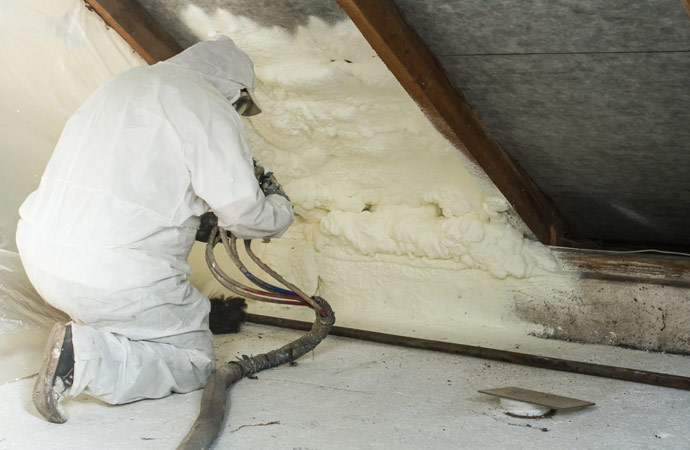 Reasons for Spray Foam Shrinkage
There could be a lot of reasons for spray foam to shrink. Here are some of them:
Spray foam product quality is not good.
The wrong temperature of the surface to be sprayed when it's outside during installation.
At the nozzle, the temperature of the foam is wrongly measured. 
The temperature of the truck's foam is not optimum.
Improper equipment for proper installation.
Chemical components mixed improperly.
Our Services
We provide many services-
Why Choose Us?
Superior Spray Foam Insulation is a certified commercial and residential home renovation contractor based in Stratford, Connecticut. Roofing, siding, spray foam insulation, new windows, gutters, and more services are available. Since 2011, the company has been a BBB-recognized and FEMA-approved business.
Trust us to provide you a solution for spray foam shrinkage. We have highly skilled technicians who can install proper spray foam insulation in your residence and workplace. Contact us online, or you may also call us at 203-442-9171 for free estimates and onsite inspection.