Spray Foam Insulation in Connecticut, Westchester County, NY and Rhode Island
Spray Foam Insulation in Connecticut, Westchester County, NY and Rhode Island
Choosing Spray Foam Insulation in CT & Westchester County, NY
Looking for a Connecticut or Westchester County, NY, spray foam insulation company that can upgrade your insulation and help with energy costs? Older insulation deteriorates, but spray foam insulation achieves a perfect fit, eliminating voids and gaps, and reducing air infiltration. This reduces energy loss, and spray foam doesn't sag, settle or deteriorate like other conventional insulations.
Call Superior Spray Foam Insulation today at 203-442-9171 to learn more about choosing spray foam insulation, or a different insulation type altogether.
We service Abington, MA; Armonk, Bedford, Buchanan, Crompond, Dobbs Ferry, Elmsford, Harrison, Irvington, Millwood, North Salem, Pelham, Purdys, Rye, Somers, Tarrytown, Waterford, CT, Yonkers, Yorktown Heights and cities throughout our CT/NY/RI service area.
Superior Helps You Choose Best Spray Foam in Westchester, NY
Options and functions to consider when you are choosing spray foam insulation:
R-value and Thermal Resistance: R-value measures a material's resistance to heat transfer. The higher a material's R-value is, the higher its resistance to heat passing through it is (this makes it much better insulation). R-values are measured at 1-inch depths. Closed-cell foam provides the highest R-values.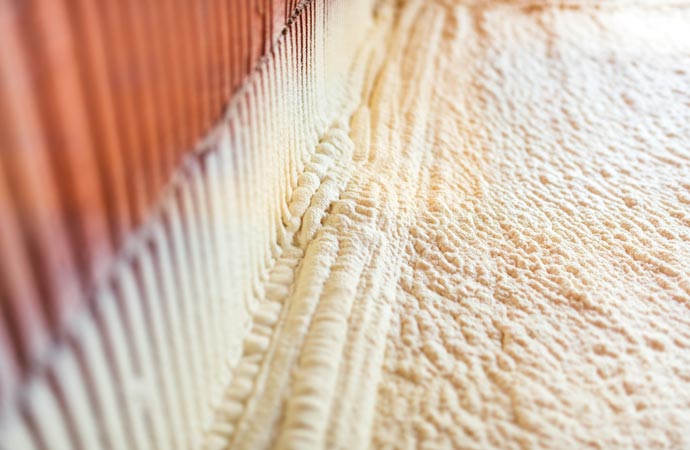 Air Barrier: Spray foam that's effective in this area improves air quality, reduces air flow and unwanted pollen, dust or insects through crevices or gaps. The more airtight, the more energy efficient.
Moisture Barrier: Our closed-cell spray foam is a Class 2 vapor blocker, which prevents moisture from passing through the foam and into your home. This is most beneficial in crawl spaces, where moisture can easily collect.
Health and Safety: Low-pressure spray foam is the safest for residential use. It's fully cured an hour after application, meaning you can occupy your home sooner. Most foams take 24-48 hours before re-entry.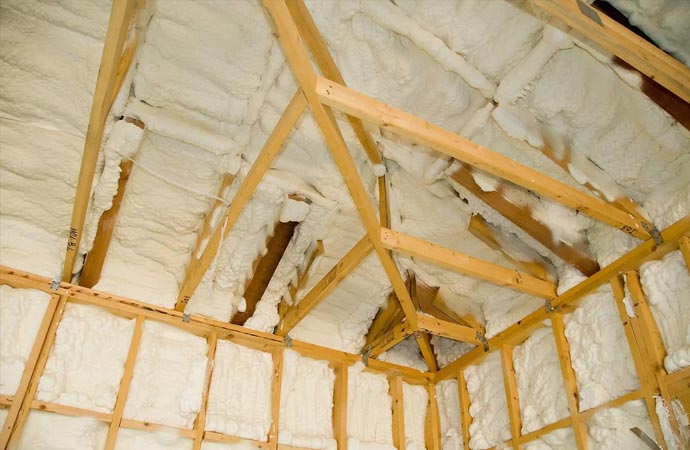 How Superior Applies Spray Foam
A knee wall is a vertical surface that separates livable conditioned space from unconditioned space. They are commonly found in homes with two floors where an upstairs wall meets the attic space above the downstairs ceiling. If any rooms have changes in ceiling height like raised or vaulted areas, there are most likely exposed knee walls that desperately need spray foam.
Our Superior Spray Foam Insulation experts use two-part expanding spray foam. This is a state-of-the-art upgrade because it serves two purposes simultaneously. It insulates with a resistive insulation value of R-6 per inch of thickness, and it provides an air barrier that stops unwanted air movement. Typical knee wall insulation is decent, but we consider it non-performing if it isn't supplemented with spray foam. An insulation batt that is defaced or missing spray foam essentially just becomes a dirty air filter.
Trust Superior For Choosing Spray Foam Insulation in Connecticut
Superior Spray Foam Insulation is here to assist you with all of your insulation-related needs, including choosing spray foam insulation. We provide service to both residential and commercial clients. If you are unsure if you need attic, garage or other insulation, ask our team of experts. We can recommend the kind of insulation material that best fits your requirements or space.
Besides choosing spray foam insulation, we provide services for roofing, siding, window replacement, and more. Call Superior Spray Foam Insulation today at 203-442-9171 or contact us online to learn more about all of our services.