Spray Foam Insulation in Connecticut, Westchester County, NY and Rhode Island
Spray Foam Insulation in Connecticut, Westchester County, NY and Rhode Island
GAF Roofing Services in New York, Connecticut, Massachusetts and Rhode Island

Install Any GAF Lifetime Shingle & You'll Automatically Get: A Lifetime ltd. warranty on your shingles and all qualifying GAF accessories!* PLUS Non-prorated coverage for the first 10 years!** To get even stronger coverage choose a System Plus or Golden Pledge® ltd. warranty from a GAF factory-certified contractor!
Superior Spray Foam Insulation is GAF factory-certified contractor. Our service area includes New York, Connecticut, Northern Jersey, Rhode Island and Massachusetts. Contact us for a FREE GAF roofing estimate.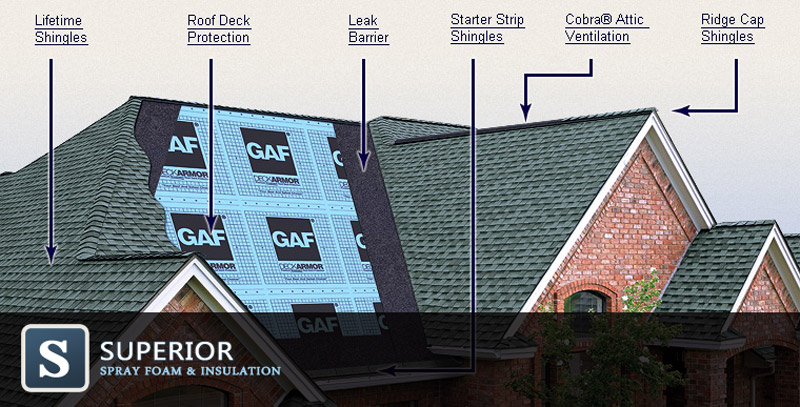 Lifetime Shingles
GAF offers you many great Lifetime Shingle choices, including Timberline® Shingles with Advanced Protection® Technology. They're the #1-selling shingles in North America!
Roof Deck Protection
Allows moisture to escape from your attic while providing an exceptionally strong layer of protection against wind-driven rain. Also, lays flatter for a better-looking roof.
Leak Barrier
Provides exceptional protection against leaks caused by roof settling and extreme weather. Ideal upgrade at all vulnerable areas including at the eaves in the North.
Starter Strip Shingles
Saves time, eliminates waste, and reduces the risk of blow-off...and may even help qualify for upgraded wind warranty coverage.
Ridge Cap Shingles
Enhances the beauty and value of your home—while guarding against leaks at the hips and ridges.
GAF Lifetime Roofing System includes everything you need to provide reliable, watertight protection for your home Factory-certified contractors—more than 4,000 strong nationwide— eliminate the risk that your roof will be installed by some fly-by-night contractor. Industry-leading warranties—backed by North America's largest roofing manufacturer—will provide you with the peace of mind you deserve.
As the industry leader, GAF is proud to offer a broad array of environmentally friendly solutions. There are options for both residential and commercial properties, including products containing recycled materials, reflective or "cool" roofing, re-cover roofing to reduce landfill waste, garden roofing, and solar roofing products. GAF worked to incorporate sustainable practices into our manufacturing process, including the recycling of shingle waste at plants, and a Zero-Waste-to-Landfill effort. And be sure to ask about Certified Green Roofer program that recognizes professional roofing contractors for recycling!