Spray Foam Insulation in Connecticut, Westchester County, NY and Rhode Island
Spray Foam Insulation in Connecticut, Westchester County, NY and Rhode Island
The Necessity of Waterproofing in Connecticut, Westchester County, NY
Are you having trouble with a defective basement waterproofing system? Are you occasionally confronted with a flooded basement? There is a chance that your basement's drainage system is inadequately built or that water pools around your home's foundation. As a result, your basement will have moisture.
While the issue may be as trivial as drops pouring through hairline gaps or a faint musty odor, it is critical to acknowledge and address the condition. If you neglect these issues for an extended time, they may evolve into something more serious, endangering the structural integrity of your home.
Water Can Pose a Threat to the Structural Integrity of a Home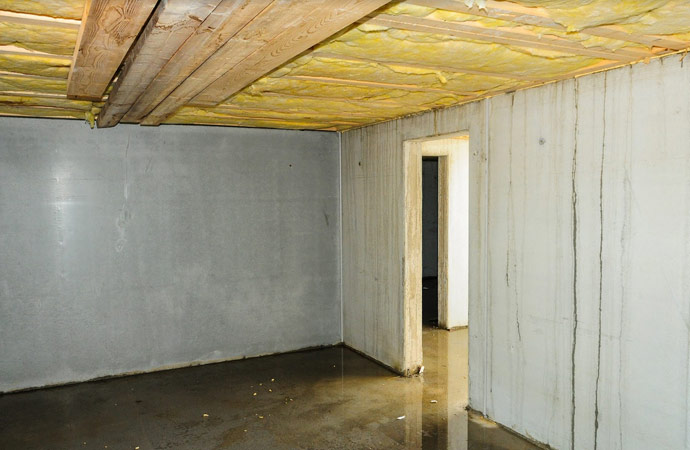 Because the basement is such an integral part of your house, appropriate care and routine visual inspections can assist you in identifying any issues that may emerge. Basements are frequently used as additional storage space, a fancy home theater, or a relaxing location for entertaining friends and family. A finished basement can be used for a variety of functions in a home. Each basement also contributes to your home's structural stability. It stabilizes and balances everything above it.
With Superior Spray Foam Insulation, you can get a variety of waterproof services for outside walls and stainless interiors. Our waterproof service increases the assurance against any type of damage. Wall waterproofing avoids wall cracking, chalking, and fungus growths in monsoons.
Call us at 203-442-9171 to know more about our waterproofing service with free estimates!
When is it Time to Consider Basement Waterproofing Necessary for Your Home?
Ideally, it is best to waterproof the exterior walls of a basement during the construction of a building. Newer construction mandates this procedure because of many state and local building code requirements, but many older homes may not have any exterior waterproofing in place. In other cases, some older homes do have exterior waterproofing installed. For 3 to 5 years; exterior waterproofing materials wear off caused by the ebb and flow of groundwater. Depending on the type of soil, location, and landscape slope (grade); a basement can have longer-lasting exterior waterproofing. Regardless, all homes become vulnerable at some point. Here are some signs of water breaching your basement: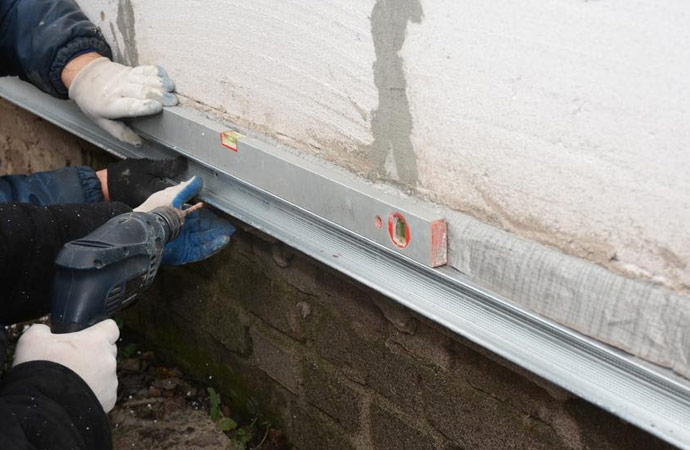 Water Stains: If you tend to notice occasionally, stains that look like outlines caused by water, either on the basement walls or floor, it is recommended to take action right away. Before taking any significant step, it is essential to make sure that someone in your house has not spilled something or the stain is not due to a washing machine overflow. When these possible causes are overruled, you can assume these stains are formed by groundwater outside. The stains could be due to seepage through wall cracks. This is a serious concern and needs to be addressed immediately.
Unwanted Smells: Another obvious sign noted the moment you enter the basement and experience a distinct musty, damp odor in the air unlike the rest of the house. The likely cause could be the presence of humidity created by home appliances (washing machines, water heater, or sink). Basements without proper ventilation have a difficult time evaporating moisture or moisture across the basement area. However, higher levels of humidity are a signal that something else is raising a stink in the air.
Efflorescence (White Sparkles): Have you ever witnessed a sparkling light effect viewed at the right angle when looking at bare floors or walls in your basement area? Along with the sparkling effect, you will also see powdery white staining on the walls. The phenomenon of efflorescence is not a fantastic, dazzling effect that is natural when it comes to concrete walls or floors. The light that reflects on the mineral deposits that have formed on the concrete is due to the evaporation of moisture. That powdery stain is the breakdown of lime found in the cement mix used to make your walls and floor. This sign indicates the presence of moisture in your basement that requires immediate action.
What Can Happen if the Building Is Not Waterproof?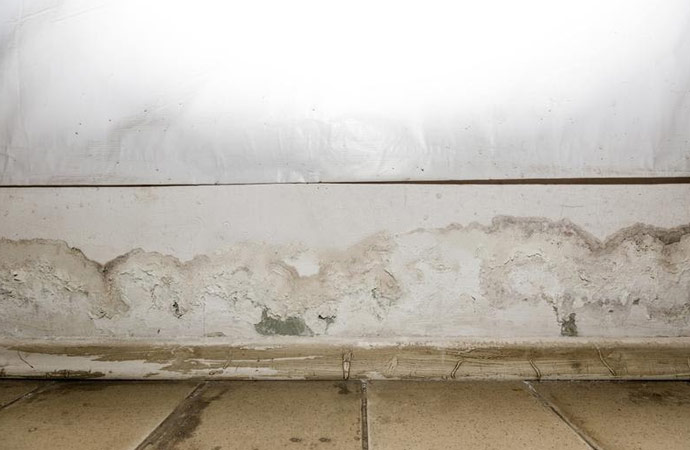 Bad waterproofing creates serious risks to the integrity of the building. Construction projects may suffer structural damage due to poor or insufficient waterproofing of the roof and concrete.
Cracks in the foundation or joints exposed to water can lead to more serious structural problems. These include leaks, spalling, and deterioration.
Mold growth is also a common waterproofing problem that is difficult to correct. If the building is built of wood or has wooden furniture, moisture from the penetration of water will lead to rotting or delamination of wood.
Mold spores are also a health hazard. Exposure to this can lead to allergies, asthma, irritation, and fungal infections. After studying several cases, WHO issued a report on this issue, which states that water leakage in buildings poses a health hazard, and about 50 terrible diseases are caused by damp stains on the wall.
Contact Us for Waterproofing at Your Property
Superior Spray Foam Insulation offers innovative technologies for waterproofing all types of structures. We have a line of products for waterproofing, applied manually and by spraying, designed to prevent water leaks and moisture penetration into both new and existing structures.

Our products are selected taking into account the specifics of customer projects and include the fastest in use and the most effective technologies. A comprehensive multi-product system provides a single solution for waterproofing with the best performance.
Our courteous customer service representatives will gladly organize a complimentary on-site inspection and quotation at your earliest convenience. We also provide services for roofing, siding, windows replacement, and many more! Contact us online or call us at 203-442-9171 for any additional queries.