Spray Foam Insulation in Connecticut, Westchester County, NY and Rhode Island
Spray Foam Insulation in Connecticut, Westchester County, NY and Rhode Island
Basement Insulation in CT & Westchester County, NY
Basements are wet, moldy, and stinky by nature. There are many situations; basements aren't ideal for storing anything, let alone living in. Basements can leak and cause moisture. The dampness produces a perfect breeding environment for mold and emits an unpleasant smell. As a result, it's critical to insulate your basement to avoid moisture, mildew, and foul odors.
Spray foam insulation is the most acceptable option for installing or upgrading the insulation in your basement. In Amawalk, Buchanan, Croton Falls, Harrison, and other cities within our service areas, you can install the top-end Foam-LOK™ spray foam system by Lapolla. This spray foam system can produce a continuous air and vapor barrier that will keep you warm in the winter and cool in the summer to help you save money on year-round utility costs.
You can assist in preventing air filtration and moisture concerns by contacting the basement insulation specialists at Superior Spray Foam Insulation. Based on the structural design and your specific needs, our experienced specialists assess insulation levels and identify the optimum solution for your place. For a spray foam consultation and free estimate, contact 203-442-9171 or click here to schedule an appointment now.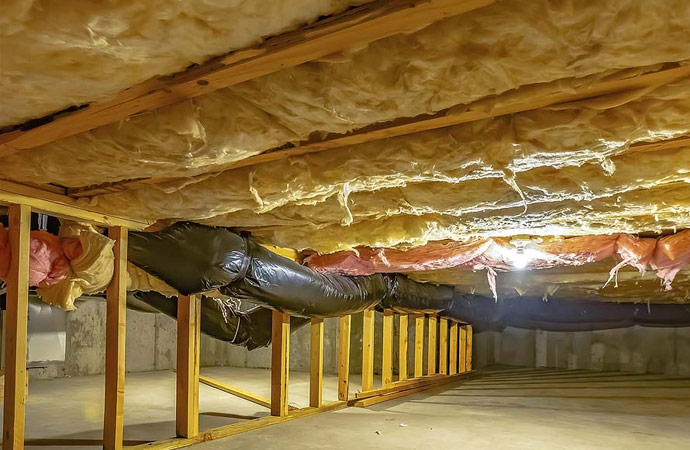 Benefits of Spray Foam Insulation
There are many advantages of spray from insulation. Here are some of them:
Barriers to air and water
Barrier against moisture
There is no prospect of a vacuum.
Resistance to heat
Environmentally friendly
Improved structural stability
Increased resale value
Diversity in application
Energy saving
Choose Us for Your CT & NY Basement Insulation
Located in Stratford, Connecticut, our company is licensed that has been providing services for roofing, siding, replacement windows, gutters, and more besides spray foam insulation. You can put your trust in us as we are BBB accredited and FEMA approved. Contact us online or call us at 203-442-9171 for free estimates and on-site inspection!