Spray Foam Insulation in Connecticut, Westchester County, NY and Rhode Island
Spray Foam Insulation in Connecticut, Westchester County, NY and Rhode Island
Spray Foam vs Rigid. Which One Should You Choose for Your Garage in Stratford, Connecticut?
Remember when a pink panther held the monopoly on home insulation? Those days are gone. Today homeowners, contractors and building scientists (the experts who study home energy performance) spend a lot of time talking about foam insulation. But this newly popular insulation can come in many forms. Right now, let's consider the differences between spray foam and rigid foam. More specifically, we can compare the closed-cell spray foam that requires two components to be mixed at the application nozzle, and the rigid foam insulation boards that come in different thicknesses.
Both two-component spray foam and rigid foam are useful for improving home energy performance. Sometimes it can be difficult to decide whether spray foam or rigid foam is best for a particular application.
Call us today at 203-442-9171 to know more about our insulation service with free estimates!
Find Out Which Insulation is Right for Your Home
Insulation is essential for energy efficiency, and nobody knows insulation better than Spray Foam Comfort.
The Pros & Cons of Spray Foam and Rigid Foam Insulation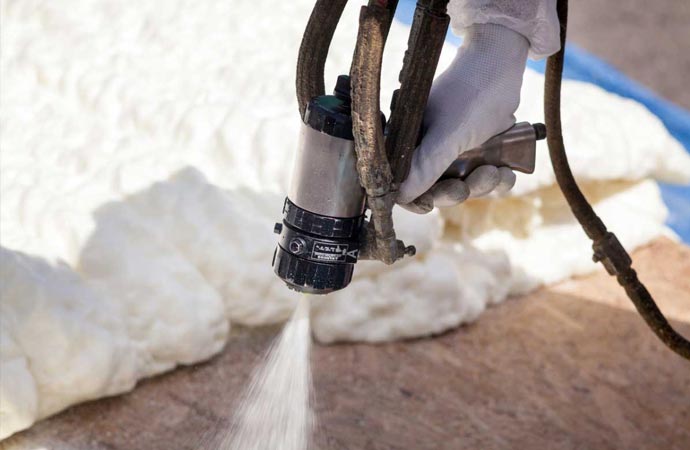 Two-Component Spray Foam
Pros:
Provides both insulation and air sealing; air sealing is excellent because the foam expands to fill gaps and cracks.
High R-value -about R-7 per in. depending on the formulation.
Speedy installation. Foaming can be done in a fraction of the time it takes to cut, fit, and seal rigid board insulation.
Once cured, spray foam insulation stays in place; it won't shift, settle, or fall out of place.
Cons:
Messy; overspray can deposit foam where it must be removed.
Respirators and protective clothing must be worn during installation.
If the area being insulated cannot be isolated from living space, occupants must vacate premises until foam cures - typically two hours.
Temperature-sensitive; cold temperatures can cause problems with foaming action or curing.
R-value can degrade slightly over time.
Rigid Foam Insulation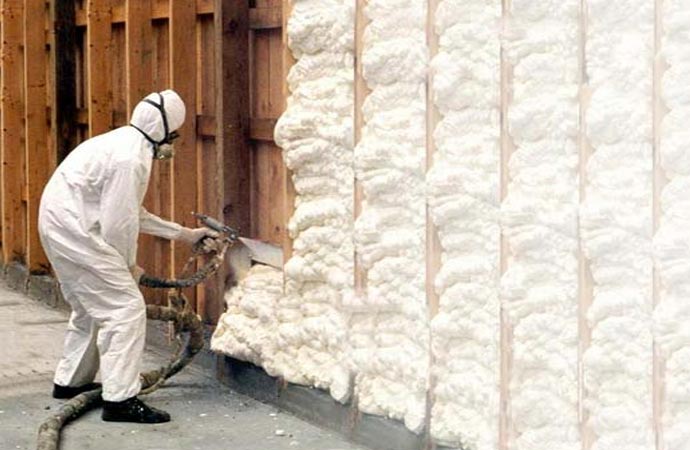 Pros:
Provides both insulation and air sealing, provided that seams between foam panels are sealed with tape.
Less messy than spray foam.
Different thicknesses are available to suit different applications & R-value requirements.
Panels are easy to cut and can be installed at any temperature.
Safe handling; no harmful emissions during installation.
Best installation for insulating crawl space and basement walls.
Some rigid foam panels include a radiant barrier for additional energy savings.
Cons:
R-value varies based on the type of rigid foam. It can be as low as R-3.8 per in. or as high as R-8 per in.
More time-consuming installation than spray foam in some (but not all) applications.
Sometimes single-component spray foam must be applied around the edges of rigid foam to seal and hold the panel in place.
Be sure to check out our other content to help in choosing the best spray foam insulation and the best spray foam contractors in the world.
Start Saving Energy & Money with An Insulation Upgrade!
If you want to make your home more comfortable, insulation upgrades should be a top priority. We are the authority in providing attic insulation and many other types of insulation services right in your own town, by hand-picked experts to help make your home more comfortable and energy-efficient. Call us today at 203-442-9171 or contact us online to get a free estimate from our authorized, certified & fully trained to insulate contractor in your area.
We can also identify the other major areas in your home that are depleting your home's energy. Spray Foam Comfort is dedicated to helping you prioritize your home's energy upgrades and repairs.
We provide service in Abington, MA, Armonk, Bedford, Buchanan, Crompond, Dobbs Ferry, Elmsford, Harrison, Irvington, Millwood, North Salem, Pelham, Purdys, Rye, Somers, Tarrytown, Waterford, CT, Yonkers, Yorktown Heights and other nearby towns and cities.
We also provide services for Apart from garage insulation, we also provide service for roofing, siding, window replacement, and more!
Call us today at 203-442-9171 or contact us online to avail of our services.